DONOR GUARANTEES
Total Transparency: You will know what we do with your gift and how it impacts the lives of our students.
Shared Vision: You will become a part of Emily Griffith Foundation's mission, and we will become a part of your philanthropic journey.
Respect: We will become partners and collaborators regarding decisions about your gift, and we will never disclose your personal information to outside organizations.
Celebration: Your gift will be recognized by Emily Griffith Foundation as publicly or privately as you wish.
Contributing to the work of Emily Griffith is neither an act of charity nor a leap of faith.
For every $1 invested in EGTC, there is a $10 annual benefit for the local economy.
100% of EGTC students benefit from our support and graduate without student loan debt.
84% of EGTC graduates gain employment, one of the highest job placement rates in the state.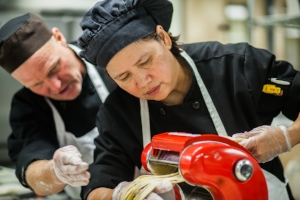 Interested in exploring our philanthropy opportunities?
Fill out the form below and one of our staff members will get back to you within 1 business day.
DONOR FAQs
How can I make a gift?
Online | Phone: 720-423-4724 | Mail or in-person: 1860 Lincoln St. Suite 605, Denver, 80203
Are all donations tax-deductible?
Yes, Emily Griffith Foundation is a 501(c)(3) nonprofit organization.
How quickly will my donation be processed?
Most donations are processed within 1 week.
How will I receive a receipt?
Online donors will immediately receive an emailed receipt. For all other donation types, you will be mailed a receipt within 2 weeks of Emily Griffith Foundation receiving your gift.
Can I keep my gift anonymous?
Yes, please specify your wish at the time of your gift.
Do you offer planning giving?
Yes, you can learn more here or by calling Cristina at 720-423-4724.
Your support has a large impact.
Your gift to Emily Griffith is a proven investment.